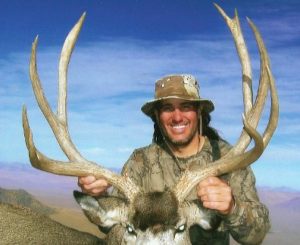 Mountain Man Outfitters was officially started in 2008 by me, Master Guide Michael John Jurad. Prior to starting Mountain Man Outfitters, I was a licensed sub-guide for four years.
I am a third generation Nevadan born and raised in Lovelock.
I was brought up in a pro hunting, fishing, trapping family. A respect for the outdoors was instilled in me from an early age. Outfitting is not a job for me but a lifestyle. MMO is a family-run business. Therefore, all guides operate on the same code of ethics. We bring a weatlh of knowledge to the field from a lifetime of outdoor adventures.
If you are considering an outfitter, you need to be confident that your choice will be one that is dedicated to your success. You'll want a team that is experienced in hunting Nevada, and truly has the passion, dedication, knowledge and perseverance it takes to locate and harvest a trophy animal.
Going into the 2017 season, our guides will have over 120 years of combined Nevada hunting experience under their belts. We believe our experience is second to none, and we stand ready to guide you to success on your Nevada hunting adventure.
Mountain Man Outfitters is dedicated to our clients' success, whatever the trophy may be. We will hunt your tag as if it's our own.
Only the Best Gear
Mountain Man Outfitters uses only the best gear available:
High-end optics are used to ensure that no quarry goes unspotted.
Our vehicles are dependable and meticulously maintained.
We utilize Iridium Satellite Phone technology in any situation that is necessary.
You may also use one of our custom-built, long-range rifles if your rifle becomes damaged, or is lost or late due to airline travel.
Our Hunts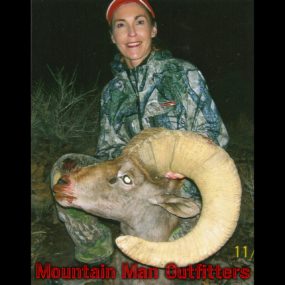 Mountain Man Outfitters offers seven types of fully guided hunts. These range from day-long waterfowl hunts to week-long elk hunts. Please click the links below for information about each type of hunt:
Non-Resident Guided Deer Draw
Note...! By applying with us in the Non-resident Guided Deer Draw, your odds of drawing a coveted trophy tag and harvesting a trophy-class deer are exponentially better than applying in the regular draw.
To apply with us, print out this form, fill out your portion, HAVE IT NOTARIZED and send it to:
Proof of Hunter Education is required. You can pre-register proof on the NDOW website.
Hunt Packages
| Package: | One | Two |
| --- | --- | --- |
| Pre-season scouting | | |
| Field transportation | | |
| Camping | | |
| Boning | | |
| Packing out game | | |
| Seasoned, professional guide | | |
| Good times | | |
| Food | | |
| Lodging | | |
| Customizable | | |
Call us today for more details! (775) 625-1717.
Taxidermy
We recommend Gary Powell at
North Slope Taxidermy
in Spring Creek, near Elko, Nevada:
Gary Powell, North Slope Taxidermy
603 Spring Creek Parkway
Spring Creek, NV 89815
(775) 738-1626
We often go from hunt to hunt, so we do not have time to transport your animal to the taxidermist. Nor do we have the facilities to store it. You will need to deliver your animal to the taxidermist yourself.
DIY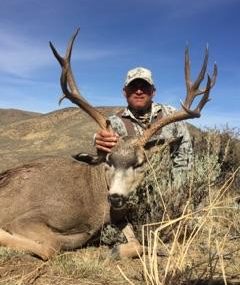 For the "do-it-yourselfer" who does not want a full blown guided hunt, we offer the following services:
Pre-season scouting of big game animals.
Provide maps with detailed information, i.e.:

General location of big game
Access issues
Preferred camping locations
Whatever else we can do to help make your hunt successful.
Mission Statement — To conduct business in an honest and professional manner, and to provide quality hunts and outdoor experiences our clients will enjoy.